First-time-parent? Don't really know how to do this parenting thing? Don't worry. We've got all the secrets, tips, and tricks you need to make the first time with your newborn feel like a walk in the park. Here are 27 ingenious baby hacks (that we wish we'd known before!)
Ingenious baby hacks (that we wish we'd known before)
1. Smoother diaper change
When changing the diaper use the buttons on the bottom part of the body and cover the arms and fasten button over the shoulder. This way you lock the arm from getting in the way of the diaper change.

Monique @ Najell
2. Get connected with skin-to-skin
Make sure to get as much skin-to-skin contact as possible as the non-nursing parent to make sure you get as involved and connected right away. It is easy to feel like you are only there for your partner but you can also be there for your baby and skin-to-skin contact speeds up the attachment process between you and your baby.

Niklas @ Najell
3. Toothbrush – the perfect teething toy?
One of first teething toys I gave to all my kids is a soft baby toothbrush. They love the feeling and it promotes early brushing. It made my kids great at brushing teething at a very early age. My pedi and dentist have now used this with their newer babies.

tarasabo

@ Reddit
4. Make changing time interesting
When changing a wiggly/rolling baby's diaper, put a toy or interesting object underneath their shirt on their chest. It will become more interesting because it's hidden and it will take them a little time to get the toy out. Empty plastic water bottles were a big hit for us.

SledgeHogg

@ Reddit
5. Babies love cardboard boxes as much as cats?
While they're little save all the thick cardboard boxes whether they're from diapers or packages. They'll probably play with them just as much as the toys they used to have inside. They're like cats in that way.

ForkShirtUp

@ Reddit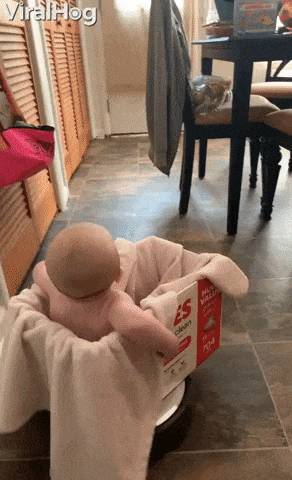 6. Don't bother folding
For baby clothes, don't bother folding. Just sort by bin. Onesie bin, pants bin, jammie bin. Baby won't care if stuff is wrinkly 🤷‍♀️

goodandweevil

@ Reddit
7. How-to eliminate blow outs
Always go up an extra size on diapers. It almost completely eliminates blow outs.

KrissyGoesMoo

@ Reddit
8. The decoy diaper
Using what I call the decoy diaper. At diaper changing time, get two clean diapers. One to replace the dirty diaper and one to hand to the kid to distract him from trying to escape. It's worked really well for us. (and yes, the decoy diaper is used more than once. The played with clean diaper just stays at the changing spot to present with the next diaper change.)

OK8theGR8

@ Reddit
9. It's all about manners!
When my daughter was learning to speak, I would ask her questions with the "thank you" and "please" built in. Like "do you want more? Yes please? Or no thank you?" So she never had to learn to use her manners as she got older, they were preinstalled.

dustybottomses

@ Reddit
10. Shoe organizer for baby food
Use a shoe organizer to store jars of baby food in your pantry. You can also use it to store diapers, burp cloths, pretty much any baby product!

Style Savvy Sara
11. Make the bed lasagna
Make the bed lasagna: mattress protector + sheet + second mattress protector + second sheet. It's a life saver with blowouts, vomit or pee in the middle of the night. I've added a third layer is my son is sick.

Longjumping_Matter70 @ Reddit
12. Get More Sleep by Practicing the Pause!
When baby stirs or wakes slightly he may just be connecting to a new sleep cycle and not need your immediate attention, help, or interaction. Before you rush in to attend to your baby, PAUSE for a set amount of time to see if the baby is going to fall back asleep or is for sure awake.

The DGAF Mom
13. Store Burp Cloths and Bib Holders Every-Fucking-Where
Don't limit the burp cloths to a drawer or basket in your newborn baby's room. Instead embrace the clutter (I would never say this any other time than during the 4th trimester) and keep burp cloths strategically placed around the house.

The DGAF Mom
14. Marie Kondo your baby's wardrobe!
Save space in your drawers by rolling up your baby's clothes. You might want to use this one for yourself, too!

One Crazy House
15. Traveling with baby?
Pack your baby's outfits (including diapers and socks) in separate Ziploc bags labeled by day.This is a Mommy-pro move that will help your suitcase stay organized and you stay sane.

Nuripod @ Instagram
16. Make nail cutting easier
Cut your baby's nails twenty minutes after they've fallen asleep.You'll have an easier time and a much more willing participant.

Twinklerugs

@ Instagram
17. The ultimate pacifier storage
Use a few of those plastic to-go condiment containers to store pacifiers in your purse or diaper bag. Pure genius.

One Crazy House
18. For all the "long boi:s" out there
I got a long boi so when he'd outgrow his onesies, which would be about 3 weeks after purchase, I cut them just above the leg hole seam and wah lah its a tshirt. Cut the footies off the pajamas too. Another thing is that from the very beginning, I've been giving him all different kinds of cuisines. It's made him a really good eater!

taargustaargus87

@ Reddit
19. Record a CD
If your baby can only fall asleep to your voice (of you singing or talking), record your voice onto a CD or your phone and connect to a speaker! "This helps so much when you have to sing the same song over and over and your voice gets tired.

Kristytish

@ Buzzfeed
20. Don't buy patterned socks.
You will spend the rest of your life trying to find matching tiny socks. Buy the same brand and same color.

Reecec

@ Buzzfeed
18. Space-saving-trick
Save space in your diaper bag by rolling the backup outfit into a sock.

One Crazy House
22. Use white noise to get your baby to sleep!
We found a playlist on Spotify that goes for hours.

hannahe4dde27cd4

@ Buzzfeed
23. BABY WIPES ARE A GIFT FROM GOD.
Use them to wipe down your kid, yourself, throw-up, dropped pacifiers, dirty hands, and to get those pesky boogers.

Ellenf4a217bc1b

@ Buzzfeed
24. I was this today years old….
When I found out the sides of juice bozes are for kids to hold it so they don't squeeze out the juice.

Kylanxx155

@ Twitter
25. Work in shifts!
My wife and I are trying our hand at "shifts" which are measured in feedings. We're feeding every 2-2 ½ hours and covering 3 feedings each. It's working pretty well so far and we're both getting a good 6-7 ½ hours of sleep.

MyGirlOlivia

@ Twitter
26. Use the envelope folds on a onesie for their intended purpose
To allow you to pull a onesie *down* off a poopy baby. Instead of (often disastrously) up over their head.

Mike Spohr @ Buzzfeed
27. Trust your instincts. You probably know a lot more than you realize.
I didn't always listen to myself — often second guessing if what I was doing was right — and I probably drove myself even further into the postpartum depression I was already dealing with. Do not google everything. If it seems right to you, and your baby is happy and healthy, you're probably doing OK.

Jodis4d616cdd9

@ Buzzfeed
Baby products to make life easier
The right baby gear can make your life with a newborn easier. Here is our list of what to buy before the baby comes. Look for simple, easy-to-use and high quality products. Trust us, you won't have time for any fuss.